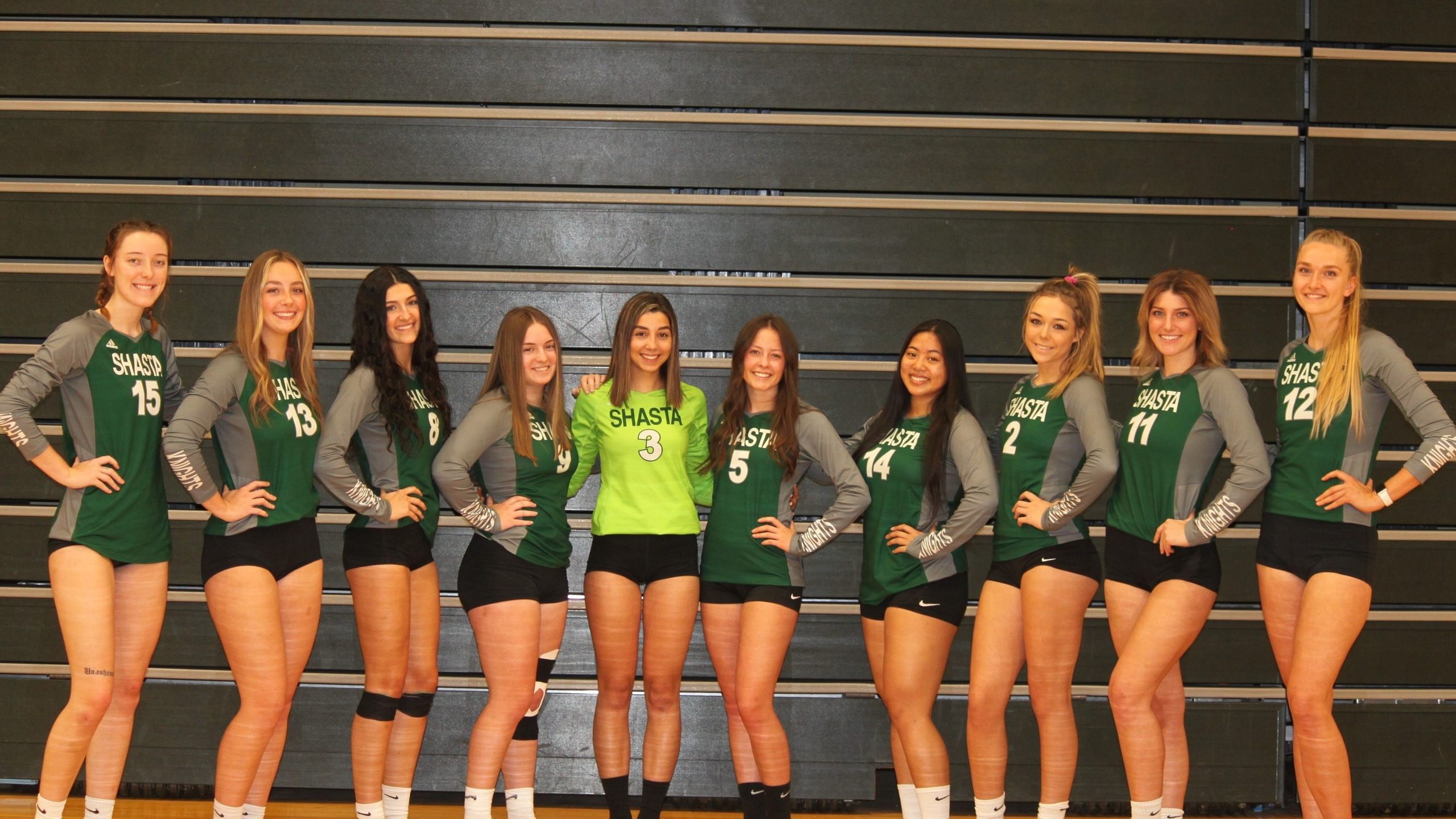 REDDING, Calif. – Shasta College's volleyball team finished the regular season with a road sweep of College of the Redwoods Friday, winning 25-15, 25-11, 25-21. The Knights lost earlier in the week to Feather River, the state's top-ranked team, 25-15, 25-17, 25-17 on sophomore night.
Sophomore Jennifer Troxclair put away eight kills to pace Shasta and freshman Presley Hamilton followed with seven kills. Freshman Sarah Ault totaled 20 assists while sophomore libero Aliyah Rosado-Cruz totaled 16 digs. Sophomore Olivia Sladek had a pair of kills.
In the win over Redwoods, Troxclair and Hamilton each totaled 10 kills and Troxclair chipped in with five service aces. Ault racked up 26 assists and Rosado-Cruz had 13 digs, finishing the regular season with 17 straight matches with double-digit assists and 21 of 22 matches on the season.
Rosado-Cruz finished with the fifth-most digs in the state with 451 and ninth in the state in digs per set (5.71).
Shasta wraps up the regular season with a 7-3 record in Golden Valley Conference play and 15-9 overall, tied for second in GVC with Butte behind conference-winner Feather River. The Knights await the state playoff seeding and currently rank 25th in the state in RPI and 10th in NorCal.
STANDINGS
Team GVC, Overall
#1 Feather River 10-0, 29-1
Butte 7-3, 17-6
Shasta 7-3, 15-9
Siskiyous 3-7, 5-17
Redwoods 2-8, 2-19
Lassen 1-9, 1-15