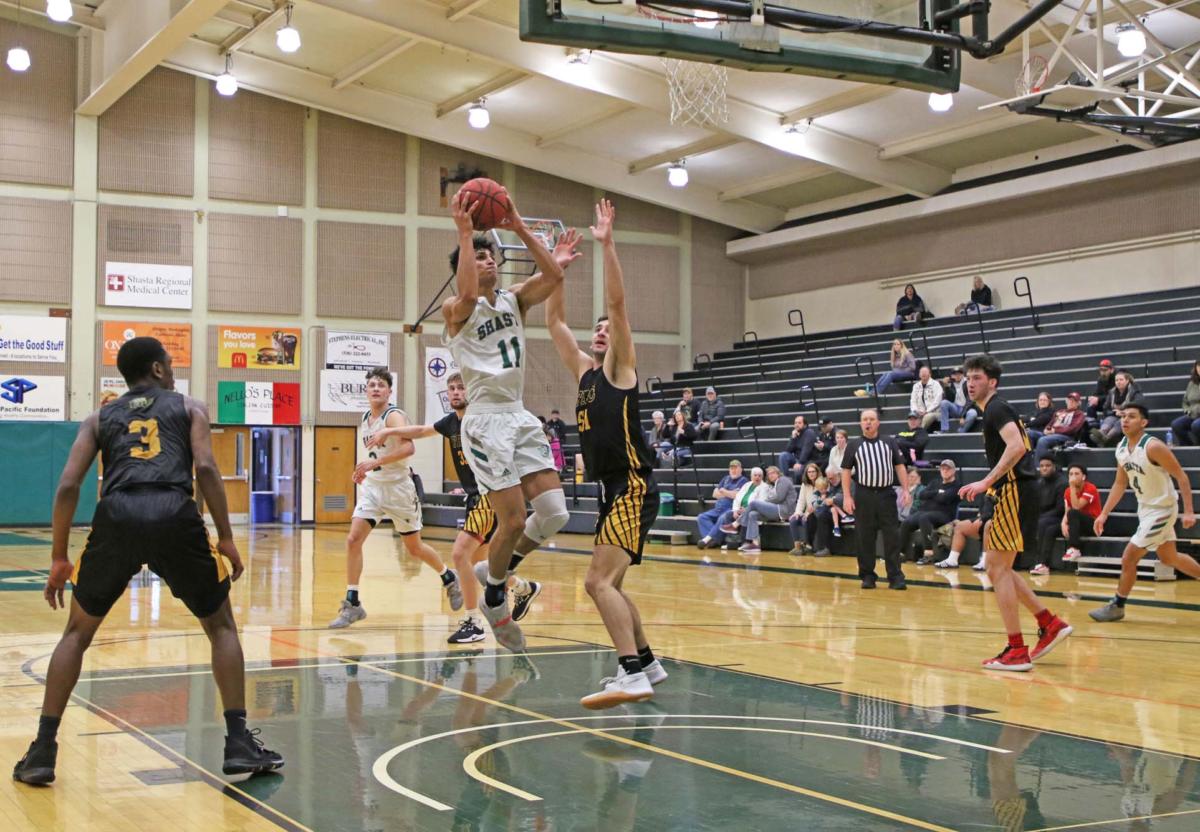 Photo by Maddie Harrell
REDDING, Calif. – Shasta College's men's basketball team snapped a five-game losing streak by beating visiting Feather River College 75-62 Saturday at home, picking up its first Golden Valley Conference win of the year.
The Knights jumped out to a hot start thanks to Simmer Singh's game-high 26 points and sophomore Zach Thompson scoring 19 points. Shasta's first four baskets were from four different players to lead 11-0, propelling the Knights to a confidence boost for most of the game.
"When we come out with energy and ready to play and focused, we can beat anyone," said Thompson, who scored 15 points in the first half.
Shasta led 37-28 at half and Singh's and-1 stretched the lead to 12 to open the second half. But the Knights struggled on a few possessions with turnovers and missed layups, allowing Feather River to take full advantage. John Cooley nailed back-to-back 3-pointers for the Golden Eagles and Jack Rick's triple put Feather River ahead for the first time at 49-48 midway through the second half.
But freshman Derek Gorden came up big for Shasta, scoring six straight points on a free throw, a 3-pointer and an inside bucket to put the Knights ahead 60-55. Feather River hit a 3 to cut the deficit to four but Gorden ignited an 11-2 run by dishing to Singh for a wide open 3 from the top of the key and Singh took it the rest of the way.
"Once we started moving and talking and sharing the pass that opens up opportunities," said Shasta College coach Kele Fitzhugh. "Simmer hits that big 3 because of the penetration and that was a big boost for us."
Singh made a pair of free throws, Michael Plunkitt stole the ball and Feather River was forced to play the foul game. Gorden and Thompson each hit a pair of shots from the charity stripe for the Knights to pull away.
"It was really important because we haven't had a win in a while," said Singh, who scored nine points in the final five minutes.
Siskiyous 81, Shasta 76
The Knights outscored the Eagles 48-41 in the second half but couldn't complete the comeback in the GVC opener on Wednesday. Thompson dropped 25 points while Gorden scored 14 points and grabbed eight rebounds, Singh scored 12 points, Plunkitt scored nine points to go with a team-high six assists and five steals and Tanner Bidwell scored nine points.
STANDINGS
Team GVC, Overall
#13 Redwoods 1-0, 14-3
Siskiyous 1-0, 7-11
Shasta 1-1, 10-10-
Feather River 1-1, 6-12
#20 Butte 0-1, 10-7
Lassen 0-1, 4-11