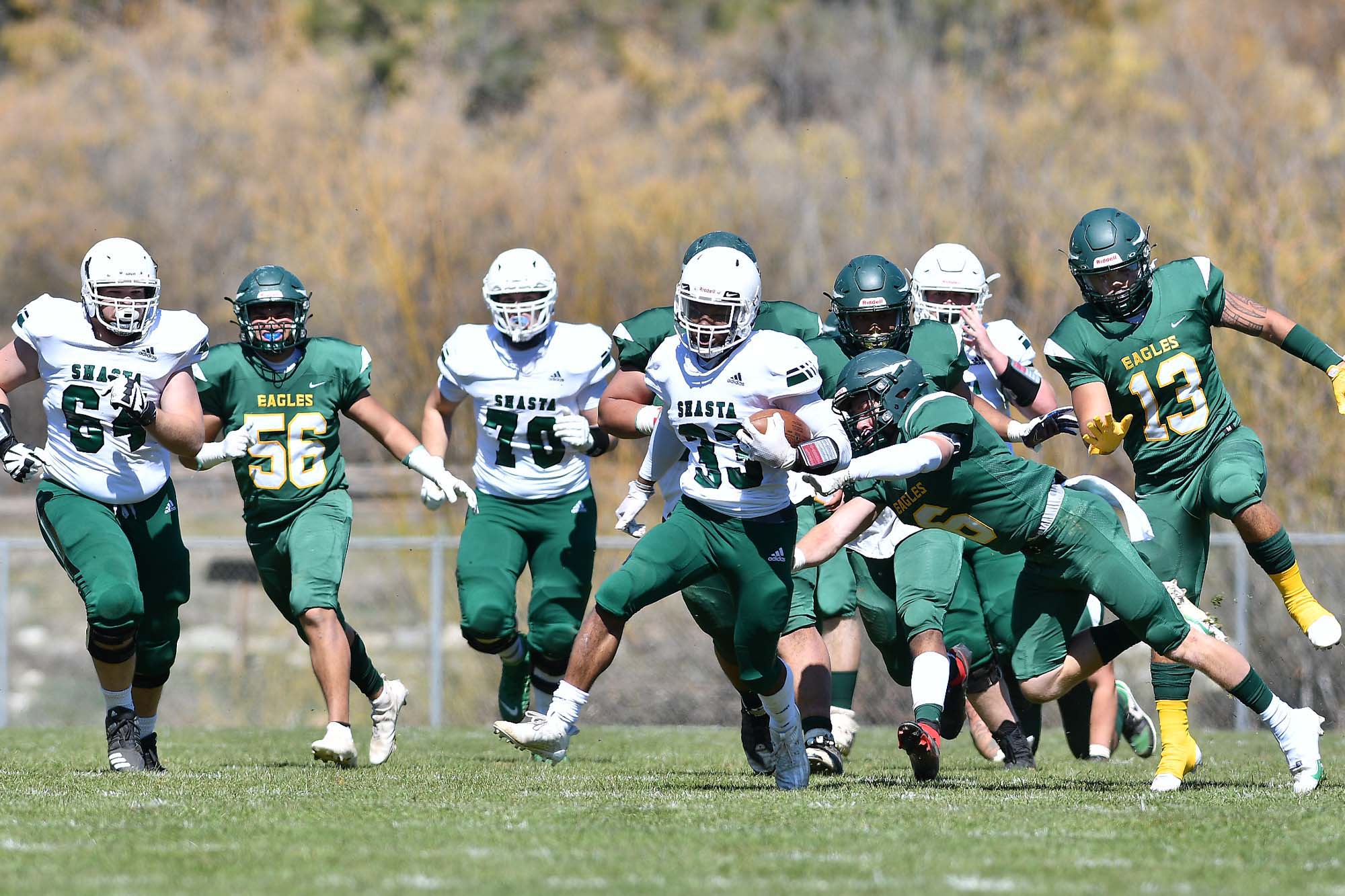 HIGHLIGHTS: Shasta College 24, Feather River 17HIGHLIGHTS: Shasta College 24, Feather River 17QUINCY, Calif. – Timely stops from Shasta College's defense allowed the Knights to rally in the fourth quarter and beat Feather River 24-17 on the road Saturday.
After Dennis Perez tied the game with a 23-yard field goal, freshman safety Noah Benson stripped Feather River's Jacob Backus to give Shasta the ball in Golden Eagle territory with less than five minutes to go.
Shasta ran the ball four of the next five plays on the ensuing drive with quarterback Toren Tuttle connecting with Josiah Graham for a 13-yard gain to move the chains. Two plays later, sophomore running back Tyler Boston took a handoff right, slipped a tackle and plunged into the end zone for a 7-yard score to give the Knights a 24-17 lead with 44 seconds remaining.
As Feather River dropped back to pass on its next play from scrimmage, sophomore defensive end Tyrese Randall strip-sacked Jared Taylor, forcing a fumble recovered by Dermont Morgan that sealed the victory.
Shasta (2-1) and Feather River (1-2) were scoreless at half thanks to the Knights' defense, which didn't allow a point in their first four drives despite the Golden Eagles reaching the red zone on all four trips. Freshman cornerback CJ Catia came away with his second interception of the season and Randall forced a fumble recovered by Jaiden Harris that denied Feather River points in the red zone again.
The second half was a different story. Boston broke free for a 73-yard touchdown run on the second play of the second half, igniting a second half surge by both teams.
"For us, the whole week off we slowed down and it took us out of how we should be playing," said Boston. "It took a toll on us in the first half. The second half we got our gears turning and (Knights head coach Bryon) Hamilton was getting on us to turn it around."
Following a 43-yard Feather River field goal, Shasta marched down the field but turned it over at the Feather River 14 when Tuttle's option pitch to Boston was mishandled. Shasta's defense held on a fourth-and-one, denying Taylor a QB sneak.
But Shasta went for it on fourth-and-8 on the FRC 33 and Feather River made the Knights pay. Taylor finished the drive by scampering for a 36-yard touchdown run on a QB keeper to lead 10-7.
The Knights answered with a five-play, 80-yard drive capped by Vinny Smith's 25-yard scoring run.
Boston totaled 186 yards and two touchdowns on 22 carries while freshman Jayden Gordon was effective in both the run and pass game with nine 92 total yards on nine carries and three catches. Smith added 71 yards on 11 carries and the score.
"(Boston) has really great balance and is durable and when you have other backs with Vinny and Jayden – it just adds to the depth and allows Tyler to rest," said Hamilton. "Most guys when they bust a 60-yarder are gassed and don't play the next series but we don't have that drop off.
"Jayden did a great job of hitting the whole, keeping things moving and being quick and Vinny is just a bull."
Feather River answered with an 85-yard touchdown pass from Taylor to Da'Jon Thomas to put the Golden Eagles ahead 17-14.
Both offenses cooled the rest of third but Shasta's defense remained hot as Randall blocked a 51-yard field goal in the final period.
Shasta turned the momentum from the defensive stop into a tie game, knotting the game at 17 with a 23-yard boot from Perez with just under five minutes to play. Benson came up big on the ensuing drive to set up the offense for the go-ahead score and Randall delivered with the game-sealing strip sack.
Tuttle completed 12-of-22 passes for 155 yards and an interception while rushing for another 26 yards. Graham was his top target, catching five passes for 82 yards and Gentry Cox added a pair of catches for 37 yards.
Shasta travels to Weed to face College of the Siskiyous. A win would give the Knights the outright North State spring 2021 championship.
Standings
Shasta 2-1
Siskiyous 1-1
Feather River 1-2
Photo Credit: Mike Daly